Can Earth Observation technology become a tool to contribute to the implementation of a sustainable blue economy?
5 March, 2019 | Author: @Eurisy | User uptake | tags: #blueeconomy #sustainableoceans, #earthobservation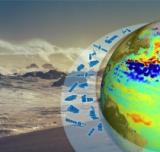 @ESA
According to the 2018 Annual Economic Report on EU Blue Economy, it comprises all the economic activities related to oceans, seas and coasts, that cover of established sectors (eg.: Aquaculture, fisheries, etc.) and new ones (eg. Blue bio-economy and biotechnology, etc.). It is important to define what "blue economy" means in order to better explain its relevance to social and economic development and why satellite technologies can be a game-changer in this sense.
read more >