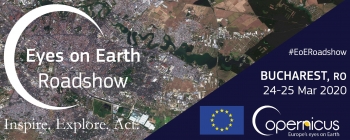 Copernicus "Eyes on Earth Roadshow"
24 March 2020 - 25 March 2020| Bucharest, Romania
The fourth event of the Copernicus "Eyes on Earth" Roadshow sets foot in Bucharest. Students, entrepreneurs and other enthusiasts will be able to explore hands on how satellite information supports scientific understanding, policy making and business operations. The programme is a combination of plenary information sessions, masterclasses and technical lectures, combining learning and doing. The programme also includes an interactive and fun exposition of key stakeholders in the Copernicus System, service providers and start-up companies.
read more >