Eurisy is a facilitator

Eurisy creates networks between space and society
Eurisy raises awareness of emerging satellite applications which can help professional communities in many sectors of application: from transport to risk management, from habitat protection to energy, from climate change to the Internet of Things, to name a few.
Eurisy supports potential end-users of satellite applications by leveraging its network to make available experience and expertise for them.
On the basis of its field work with end-users, Eurisy provides feedback to decision-makers on possible measures to overcome obstacles to the diffusion of space-derived innovation in society.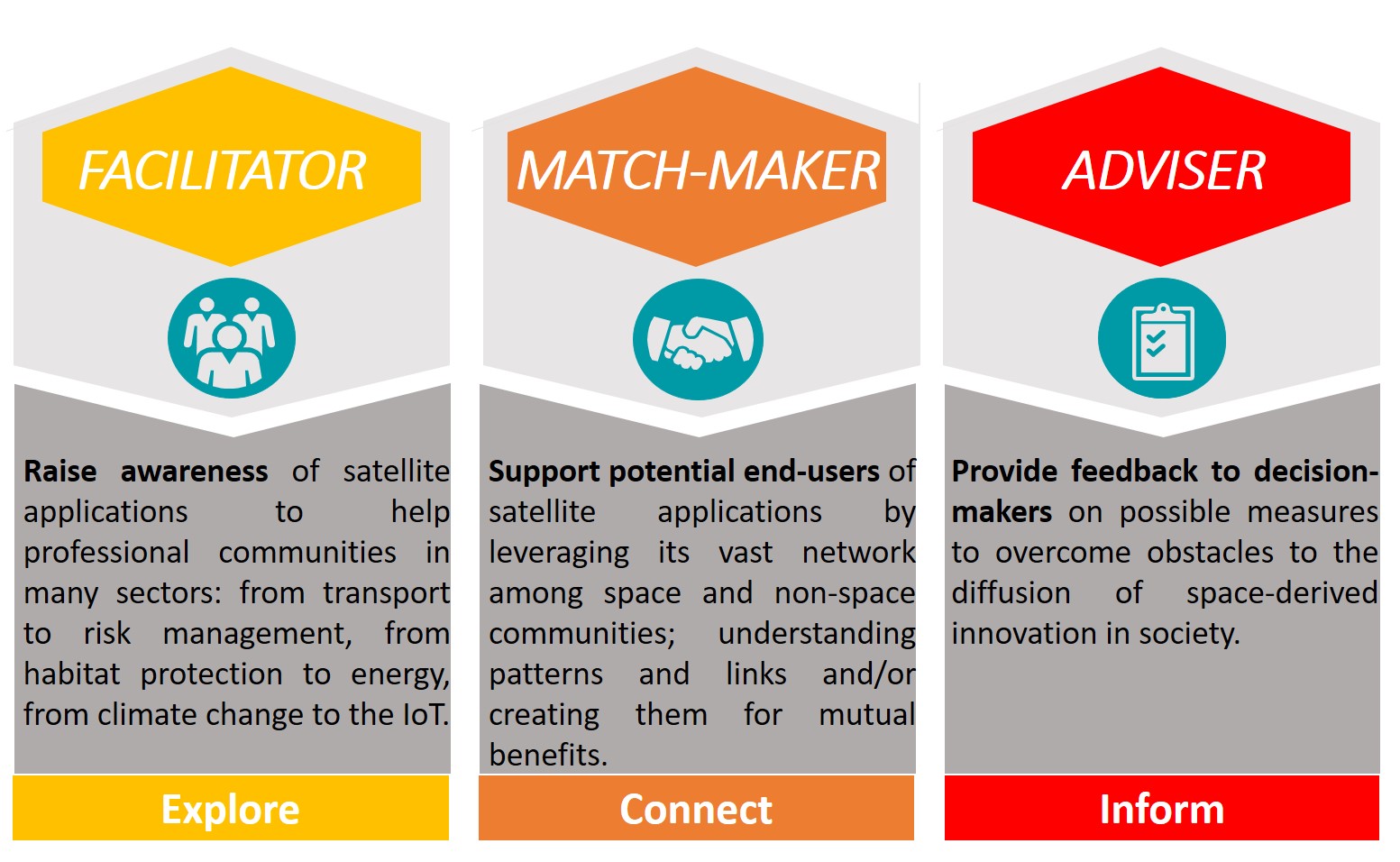 Why?
The European Union has been investing public funds in satellite infrastructure.

EU's Galileo programme is worth €8.4 billion. Galileo is Europe's civilian global satellite navigation system which will provide accurate, guaranteed global positioning services, compatible and complementary to the American GPS and other alternatives.



EU's Copernicus programme, worth €5 billion, is a hub of environment and risk information relying on many sources of data, including Earth Observation satellites.



This infrastructure – a public good – generates geospatial services which are expected to support EU policy goals in matters of environment, security, transport, energy, climate change and the management of natural resources. In addition, they are expected to generate new jobs, enterprise and innovation in the EU.
However, only when these new services become well known and widely used by society will expected returns on satellite investments be fully reached. Eurisy is therefore mandated by its Members to make these investments and services known to the intended end-users.
How?
Eurisy identifies early adopters of satellite applications and promotes such good practice examples by organising peer-to-peer exchanges of experience during workshops, conferences, case-studies, or by featuring such examples on our website and in printed publications.
Eurisy works closely with end-users to observe, understand and document the obstacles and opportunities in the diffusion of innovation related to investments in space. This is the basis for Eurisy's feedback to the space community and to policy-makers.
Eurisy's strong relations with local and regional authorities, SMEs, public institutions and larger companies from across Europe have allowed it to act as a catalyst for the use of geospatial services.
In sum, Eurisy offers a neutral and independent setting for all stakeholders to work collectively to support the diffusion of innovation from space.