The Hubert Curien Award

Background
In 1993, Hubert Curien, the Founding President of Eurisy, painted the visionary picture of a new generation of cross-sector scientists who would "go beyond their own specialisation" and "aim to encompass the whole complexity of human, cultural, environmental systems in which society evolves", in order to "provide decision-makers as well as citizens with the indispensable elements for big society choices".

The biennial Hubert Curien Award recognises outstanding efforts to help society benefit from space. Since its inception in 2004, Eurisy confers in 2018 the 8th edition of the Hubert Curien Award.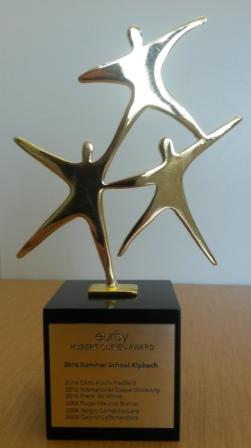 Eligibility
All individuals, teams or institutions with proven merits in bridging space and society are eligible to be nominated by Eurisy members.
2018 Jury Members
The distinguished members of the 2018 edition's Jury include:
Roberto Battiston, President, Agenzia Spaziale Italiana (ASI)

Pierre Delsaux, Deputy Director General, DG Grow, European Commission (EC)

Pascale Ehrenfreund, Chair Executive Board, Deutsches Zentrum für Luft- und Raumfahrt (DLR)

Jean-Yves Le Gall, President, Centre National d'Etudes Spatiales (CNES)

Alain Ratier, Director General, European Organisation for the Exploitation of Meteorological Satellites (EUMETSAT)
Etienne Schneider, Deputy Prime Minister, Luxembourg

Johann-Dietrich Woerner, Director General, European Space Agency (ESA)
Previous Laureates
Alpbach Summer School Austria ( 2016)
International Space University (2012)
ESA Astronaut Frank De Winne (2010)
Prof Roger-Maurice Bonnet (2008)