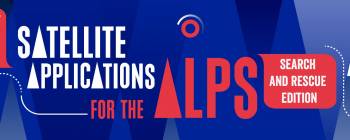 Satellite Applications for the Alps: Search and Rescue
11 October 2017 - 12 October 2017| Brixen, Bressanone, Italy
The objective of the conference is to discuss how innovation derived from satellite images, satellite navigation, and satellite telecommunications can support the Alpine Search and Rescue services and Civil Protection Agencies.
The conference will be held during the International Mountain Summit in Bolzano Italy in October 2017 with the aim of connecting stakeholders of search and rescue services in different Alpine regions.
The conference is a followup to the previous Eurisy conference on Satellite Applications for the Alps held in Berchtesgaden 2016.
read more >