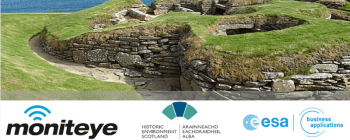 Historic Environment Scotland kick off European Space Agency project
28 June 2019 | Stirling, United Kingdom
Historic Environment Scotland (HES) kick off ESA Business Applications project to address challenges faced in managing / maintaining assets affected by coastal erosion, ground movement and climate change.
Speakers will talk about the challenges faced in managing and maintaining historically important assets, including an update on Dynamic Coast (Scotland's Coastal Change Assessment project), and an overview of technologies that are currently being used and of how satellite capabilities may assist.
Eurisy will contribute to the event by presenting some of the key messages of the Space for Culture conference organised in Matera (Italy) in October 2018.
read more >