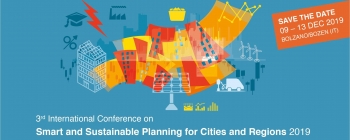 3rd International Conference on "Smart and Sustainable Planning for Cities and Regions – SSPCR 2019"
9 December 2019 - 13 December 2019| Bolzano, Italy
Smart and sustainable planning for cities and regions strives for digital innovation and the adoption of disruptive and clean technologies, while contributing to long-term environmental protection, developing new value propositions and adding to social justice.
SSPCR 2019 specifically wants to support the 'transposition' of research into practice and visionary approaches into (planning) policies and tools, to be applied by local authorities and decision-makers in an urban and regional context.
SSPCR 2019 explores the impact of academic research, the scaling-up and replicability opportunities of pilot projects, and the added value of local bottom-up initiatives, in relation to complex challenges posed by the smart city/region approach. Eurisy supports the event as an association partner.
read more >