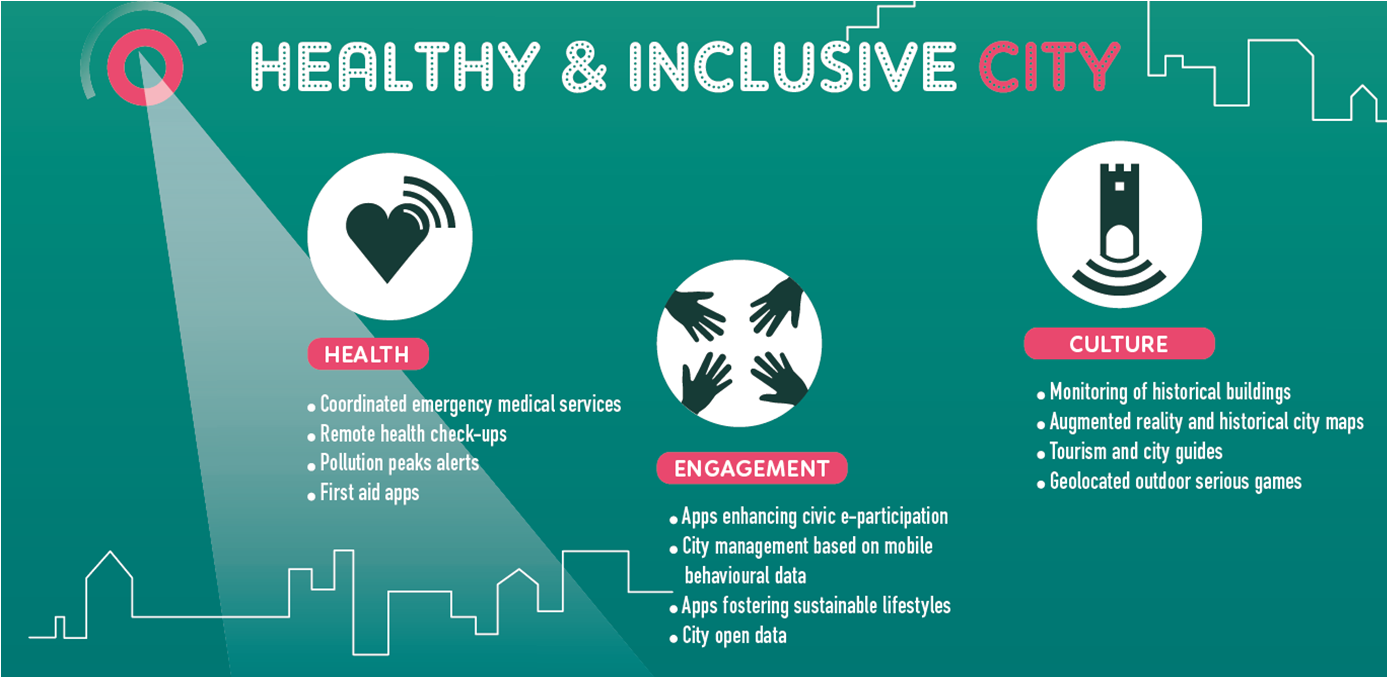 Sustainable cities are concerned with the health and happiness of their inhabitants. Policies based on the integrated urban development approach aim at enhancing the economic growth of cities, while respecting the environment and increasing residents' satisfaction with their lives. Indeed, if the effects of pollution, exclusion and inequalities are more severely felt in cities, it is also in cities that the most innovative solutions can be deployed.

Satellite imagery offers data about air quality (i.e. temperature, pollution, presence of pollens and other allergenic substances). This information can help prevent and manage respiratory illnesses. Indeed, in some cities, information on air quality is sent directly on residents' smartphones or is showcased on local television channels.

A sustainable city is also one in which people with discapacities and the elderly are provided with opportunities to move freely and have a fulfilling life. Satellite navigation is already embedded in online portals and smartphone apps which provide guidance to people with impaired mobility and it is integrated in systems allowing autonomous healthcare. Satnav also supports hospitals and emergency services, by enabling them for increased coordination and response (see 2017 Eurisy conference on Satellites for Future Health).

An integrated urban development requires policies which not only shape the urban infrastructure and services, but also residents' culture and behaviour. In a sustainable city, local authorities promote transparent flows of information and make sure that residents are involved in the design and implementation of local policies.

Satellite services can support engagement in cities. For instance, satellite navigation is already embedded in apps allowing residents to give feedback to their city administrations on different issues, such as damage to the city infrastructure. Satellite imagery is also integrated into geographic information systems (GIS) offering information on the urban environment, assets and policies.

Cities are ecosystems with their very specific culture. Local historical, natural and intangible heritage must be protected and promoted, not only for ethical reasons, but also to stimulate the local economy.

Satellite imagery offers precious information on the position and status of archaeological remains, helps monitoring historical buildings and landscapes and provides a layer for augmented reality apps and games. Satellite navigation is instead widely embedded in tourist apps offering information on cities' attractions and events or in geolocated outdoor serious games.
Here are some examples of how cities are relying on satellite applications to enhance their healthiness and inclusiveness. More success stories are available in our Good Practice Database.
| | | |
| --- | --- | --- |
| | | |
| The Breast Screening Service installed a satellite antenna on the vans used to perform breast screenings outside the hospital facilities. Through the antenna tests are sent directly to the hospitals safely and in real time. Moreover, the system includes pre-packaging of the images and embeds indelible GNSS data into the patient medical records, for date and location identification. | An online management software allows residents to send and monitor requests to the city authorities through a web page or their smartphones. Each entry has GNSS coordinates attached and can include pictures and comments. According to the number of entries related to each issue, the system automatically grades its priority. | Tourists can rent a mobile device, equipped with Satnav and a touch screen, which guides them along the itinerary developed by the Tourist Office. As visitors make their way along the ancient ramparts of the medieval city, the palm device provides details and information in real time. |