Background

In 1993, Hubert Curien, the Founding President of Eurisy, painted the visionary picture of a new generation of cross-sector scientists who would "go beyond their own specialisation" and "aim to encompass the whole complexity of human, cultural, environmental systems in which society evolves", in order to "provide decision-makers as well as citizens with the indispensable elements for big society choices". The biennial Hubert Curien Award recognises outstanding efforts to help society benefit from space. Since its inception in 2004, Eurisy confers in 2016 the 7th edition of the Hubert Curien Award.
Eligibility
All individuals, teams or institutions with proven merits in bridging space and society are eligible to be nominated by Eurisy members.
2016 Laureate
The laureate for the 2016 Hubert Curien Award is the Summer School Alpbach!
In 2016 the Alpbach Summer School is at its 40th edition, having trained 2,400 participants in its 40 years of existence.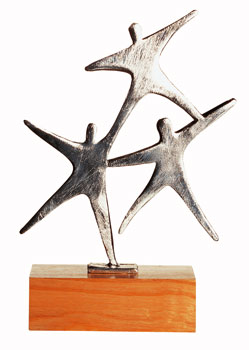 The Summer School has been established as a unique institution to:
promote space as an exciting and challenging enterprise;
encourage international, multi-disciplinary, team exchanges;
balancing scientific and functional objectives and requirements with the realistic constraints of mission-design, spacecraft-design, and mission cost;
forging long-term friendships that might eventually evolve into professional collaborations later in life;
The Summer School is organised by the Aeronautics and Space Agency of FFG and co-sponsored by the European Space Agency (ESA) and the national space authorities of its member and cooperating states. A traditional partner is the International Space Science Institute (ISSI). It is also supported by Austrospace, the association of Austrian space industries and research institutions.
This year's topic "Satellite Observations of the Global Water Cycle" is again at the heart of helping society to benefit from space.
Award Ceremony
The award will be handed over by Eurisy president D. Tilmans during the opening ceremony of the 40th edition of the Summer School on 12 July in Alpbach, Austria, in the presence of ESA DG, Jan Woerner and Chair of the DLR Executive Board, Pascale Ehrenfreund.
Terms of reference
Article 1. Work in all fields of activities is eligible, provided it is a valuable contribution to the objectives of helping society to benefit from space. No geographic restriction applies.

Article 2. All nominations must clearly state the merits for which a person/ team/ institution are nominated. In the case of the nomination of a team or an institution, its representative must be clearly identified in the application form.

Article 3. Eurisy Full Members have the exclusive prerogative to nominate one or more candidates for the award. The Full Members' delegates to Eurisy will be invited to nominate individuals/teams/institutions on behalf of their organisation using the online application form.

Article 4. The Eurisy Council representatives will select a shortlist of five outstanding candidates. The Hubert Curien Award Jury will select the final laureate among the five candidates of the shortlist, through successive ballot votes until a majority is reached for one candidate.